3 YEARS OF TORUS… 3 YEARS OF GROWTH
If the three years of Torus are worth celebrating, it's not least because of the significance of the number itself… Three is the third point on the road to the top, once the foundations have been consolidated. The third chance is inevitably the one that will be won. Torus is also present on three continents…
Time to blow out the candles around the first successes!
Three two one… A look back at the first, second and third years of Torus!
The creation of Torus Actions in 2019: combining Ai and health
In 2018, then a professor in Fundamental Mathematics at the Institut de Mathématiques de Toulouse, Tien Zung Nguyen had an idea. In 2019, the process was launched, and Torus was born. The idea that occurred to the teacher and director of several theses is to take advantage of his mastery of mathematics and the recruits he has carefully chosen to combine artificial intelligence and health.
Behind this idea lies a quote he will enunciate on screen two years after the creation of Torus on BFM Business on November 20th, 2021:
"Intelligence, it's not artificial, it's universal, we have to identify and unify with all the other players and patients to create wonderful things for life."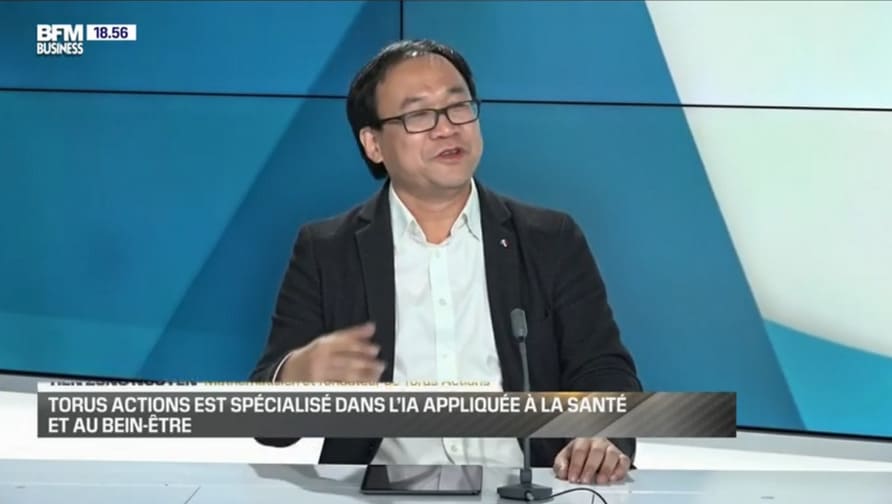 Our objective: save lives!
A brilliant team committed to an innovative project.
Sylvain Delmas gradually became part of the Torus team, and while it was their cohesion that drove his enthusiasm, he quickly became passionate about their projects. "What interested me were the very human values involved, saving lives: it was a childhood dream of mine to save lives in my profession, and we soon had our first successes". Our experience started in a small office. Today, we're working in new ones, three times larger !
In the space of a few years, we've implemented just as many new algorithms. Promising results have been achieved in 3D mapping, signal processing and skin disease diagnostics, notably through our Skin AI project.
Through this experience, Torus' initial results go far beyond the design of algorithms; they are the symbol of virtuous teamwork.
An experience based on trust and competence.
The expansion of Torus Actions
Over the past three years, the Torus network has grown exponentially. Numerous partners have been added and have shown their confidence. French institutions have shown their support for Torus with programs such as Jeune Entreprise Innovante, Crédit Impôt Recherche, Banque Publique d'investissement, AD'DOC and Toulouse Métropole. Partners such as iToboS members and Eurobiomed have integrated Torus into their projects.
Torus strives to make its partners' investments profitable. In addition to in-house projects, numerous events are organized to share our passion for innovation. Seminars, hackathons, R&D efforts, and investment in the future of three brilliant Master's students through support for their theses.
Finally, if Torus had to be described in three words, it would be Intelligence for Life.